2019 SUMMER CAMPS
Come explore the natural world with Seward Park Audubon Center Nature Camps. The park, located in the Rainier Valley, spans 277 acres including the city's largest stand of old growth trees, 2.5 miles of shoreline, two playgrounds, miles of nature trails, and a lifeguarded swimming beach. Kids get to explore the ancient forest and shores while learning about birds, art, native plants, wilderness skills, or just playing and having adventures!
We offer two themed camps for summer 2019. Camp meets each day from 9AM - 3PM and are offered to youth ages 6-9. Scroll down for camp descriptions and our summer schedule.
Wilderness Skills
Learn the wild ways of the woods! On this daring adventure we'll practice the art of wilderness survival and awareness of our surroundings as we build shelters, forage berries, explore knots and navigation, play wild games of camouflage, and hike deep into the woods tracking mysterious creatures big and small. Are you ready for the call of the wild?
Feathered Friends
Have you heard the bird's the word? We'll get to know the beautiful winged creatures of the forests and shores of Seward Park on this fanciful flight. Armed with binoculars, we'll prowl deep into the forest on a hunt for owls, gaze at the dance of the eagles, perfect our senses, sing like songbirds, and build our very own nests. Come fly with us on this magnificent journey!
Pricing
$350 for full-week of camp
Scholarships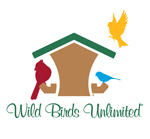 Wild Birds Unlimited believes in our mission to provide fun, outdoor learning oppotunities for youth. Wild Birds Unlimited have made available a limited number of scholarships to families in need on a first come, first serve basis. Download our scholarship application and submit to jmanson@audubon.org or mail to 5902 Lake Washington Blvd S.

Cancellation and Refund Policy
Please review your calendar carefully before selecting a camp for your child.
If you wish to cancel your camp registration and apply for a credit to another week of camp, you can contact our office at 206-652-2444 or jmanson@audubon.org. The following policies and timeline apply.
If you notify us before May 28, you can apply for a 100% credit on your account for a future enrollment, or a 75% refund.
If you notify us between May 28 and June 10, you may receive a 100% credit on your account for another Seward Park Audubon Center camp in 2017, or 50% refund.
No refunds will be granted after June 10.
| July 8 - July 12 | Wilderness Skills Camp |
| --- | --- |
| July 15 - July 19 | Feathered Friends Camp |
| July 22 - July 26 | Wilderness Skills Camp |
| August 5 - August 19 | Wilderness Skills Camp |
| August 12 - August 16 | Feathered Friends Camp |
| August 19 - August 23 | Wilderness Skills Camp |
How you can help, right now
Get Involved
We rely on the talents of our volunteers to promote the efforts of the Center. Whether you're a budding naturalist or an organized decision-maker, we need you!
Get Native
Incorporating native plants into your yard or balcony garden provides important habitat for birds and promotes biodiversity.