Demo Content 6
Audubon Chicago Region is sparking conversations about birds and climate change in the heart of the Windy City.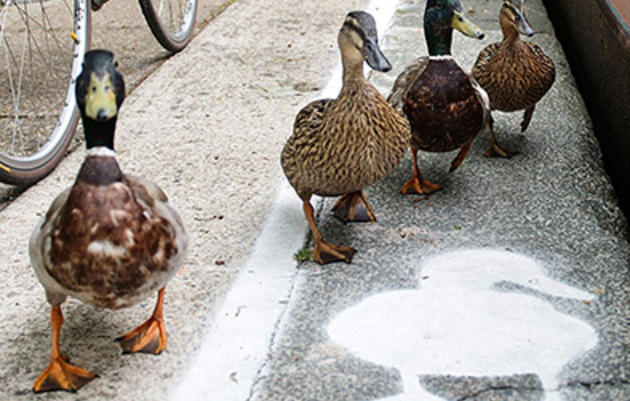 Millennium Park in Chicago sits nestled among skyscrapers, train tracks, and busy city streets, providing a green oasis amid the hubbub of the Loop. But this summer, visitors found more than trees and flowers—they also found birds and other natural beauty that's at risk from climate change. From July through August,Audubon Chicago Region hosted a weekly outreach project in the park to talk with people about how our warming climate affects birds.
The outreach coincided with an Art Institute of Chicagoexhibit of Jean-Luc Mylayne's avian photographs, which included an outdoor pavilion next to Lurie Garden in Millennium Park. The pavilion will be open through fall 2015.
The setting is more than just a beautiful space in a prominent part of the city, though; Lurie Garden is full of many native plants and pollinators. "It's in this massive urban canyon of huge, huge buildings, sandwiched right between the lake and Michigan Avenue. It's a natural segue to talk about how birds come in and use these urban oases during migration," says Thomas Barnes, program associate for Bird-Friendly Communities with Audubon Chicago Region.
Birds Come to Life Through Artwork
Local artist Jorge Felix of the Puerto Rican Arts Alliance joined Audubon Chicago Region for the project. Felix worked with passersby to create five collaborative art pieces featuring local "spokesbirds" threatened by climate change: the Bald Eagle, the Yellow-bellied Sapsucker, the Tree Swallow, the Mallard, and the Peregrine Falcon.
How you can help, right now
Get Involved
We rely on the talents of our volunteers to promote the efforts of the Center. Whether you're a budding naturalist or an organized decision-maker, we need you!
Get Native
Incorporating native plants into your yard or balcony garden provides important habitat for birds and promotes biodiversity.