Birds
Nature Store Wild Bird Care Corner
Check here for seasonal wild bird care and feeding tips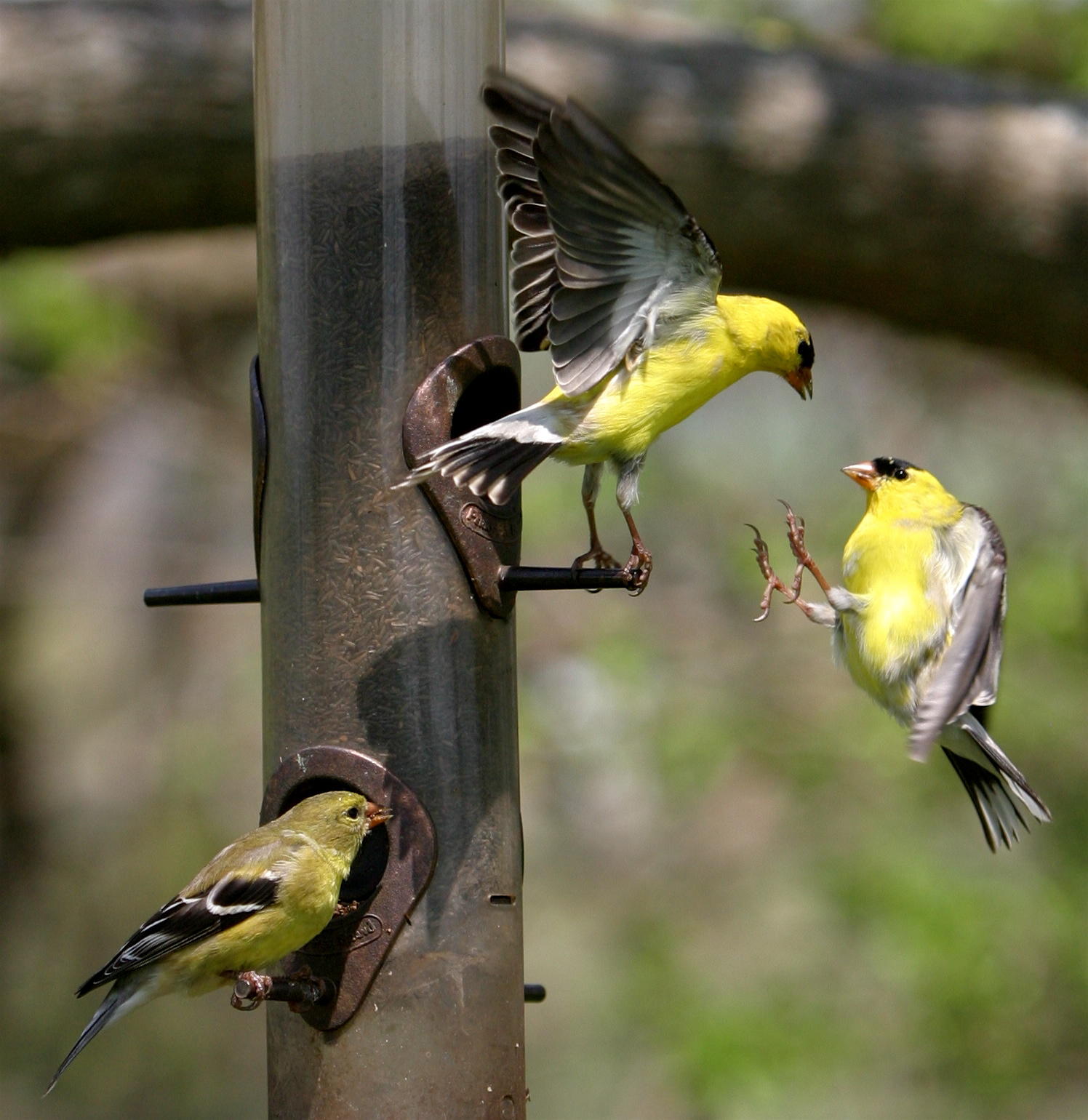 Spring Feeding: Basic Backyard Feeding Options
Nature Store Wild Bird Care Corner—check here for seasonal wild bird care and feeding tips
Spring is an exciting time to feed our feathered friends as resident birds begin nesting and migratory birds return to the area. Not sure what to feed? Here is a breakdown of some basic backyard bird feeding options.
Black oil sunflower seed attracts the greatest variety of birds. It is high in fat and the shells are easy to crack for smaller birds. This is a favorite for finches, grosbeaks, chickadees, nuthatches, juncos, jays, and many others.
Patio mix is a mixture of sunflower chips, diced peanuts, Nyjer thistle seed, and cracked corn. It is ideal for patio and deck feeders, as it contains shelled and hulled ingredients, creating less waste. This blend appeals to chickadees, finches, nuthatches, sparrows, and others.
Peanuts: Peanuts are a great source of protein. Shelled peanuts can be placed in mesh tube feeders specifically designed for woodpeckers (such as Droll Yankees' 13-inch Woodpecker Feeder, $27.99, available in the Nature Store). They are a favorite for jays, flickers, and a variety of woodpeckers.
Nyjer Thistle: With a high fat and protein content, Nyjer seed is an excellent source of energy and a favorite of goldfinches. Contrary to its name, Nyjer thistle seed is not thistle but the seed of an African yellow daisy native to Ethiopia (all wild bird seed, including Nyjer, is sterilized according to USDA standards to prevent germination). Nyjer seed can also attract pine siskins, nuthatches, and chickadees. It is recommended to replace Nyjer seed every 2 to 3 weeks when not being eaten regularly.
Suet: Suet is an excellent source of energy for birds year-round but especially in the winter. Packed with protein and carbohydrates, these cakes of fat can slide into a caged feeder or come in plug form that can be packed into a suet log. A favorite for birds both large and small, watch for flickers and gangs of bushtits at your suet station.
If you've been feeding birds over the winter, now is a good time to inspect any leftover bags of seed for mildew, moisture, or parasites and replace as needed. It is also a good time to thoroughly clean feeders of accumulated debris. A long-handled coarse brush, such as the 24-inch long Best Long Brush ($6.50, available in the Nature Store) and hot soapy water is the most effective way to clean tube feeders.
Stop by the Nature Store for more spring feeding tips and to browse a diverse selection of wild bird feeding options and bird supplies.
How you can help, right now
Get Involved
We rely on the talents of our volunteers to promote the efforts of the Center. Whether you're a budding naturalist or an organized decision-maker, we need you!
Get Native
Incorporating native plants into your yard or balcony garden provides important habitat for birds and promotes biodiversity.